My Editing Philosophy
I apologize to all who know this well-worn quote from Groucho Marx, but here it is anyway:
"Outside of a dog, a book is man's best friend. Inside of a dog, it's too dark to read."
The journey of writing a book can be just as dark as the inside of a dog, but then, I have never journeyed to the innards of such a creature. Maybe, upon arriving there I would find a bright light to guide my way. That would sure be nice, especially navigating those miles of intestines!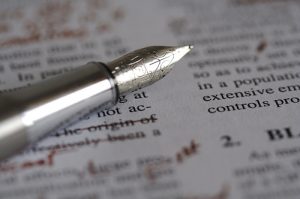 So it is with the writing journey. OK, I am a little more crass than Anne Lamott at describing the writer's journey (See Bird By Bird), but the struggles of mastering the craft of writing take not just time but assistance. At least in my opinion. Some writers do just fine without any feedback or critiquing at all. Or so I'm told. Haven't met one yet. So, the wonderful part of being an editor for another writer is in holding up that lamp along those slippery paths so the writer can get a better footing. And if you happen to chance on the "exit" sign that leads out of that dark, convoluted place and into some fresh air and sunlight, then woohoo! You both get to dance on the tickly grass with your bare feet.
If you are concerned with how you are telling your story, concerned about elements such as pacing, character development, structuring chapters, scenes, building tension, epiphanies, and denouements (OK, I used to not know what those words meant, too!) and want someone to delve deep into the heart of your story and come back out with encouraging, constructive feedback, then let me help you. I love great characters and feel they are what drives your story. If you are writing nonfiction, you'll need to still have a unique voice that stands out, that reflects the passion you feel for your subject without boring your audience to tears.
So, now I'll rewrite Groucho: "Outside of a book, a dog is man's best friend. Inside of a book, well, it looks a whole lot better than the inside of a dog."
---
Services Overview
CRITIQUE INCLUDES:
My overall assessment of your manuscript will address plot and character development strengths and weaknesses. I will point out areas where improvement is needed and offer general suggestions. No changes are made to your manuscript. This is an annotated, in-depth look at all your major components. My speciality is fiction, but I do critique nonfiction manuscripts as well, and also have editors who work with me who specialize in nonfiction project development and critiques.
If you are not sure you would like a full manuscript critique, consider having just the first ten to fifty pages critiqued, to get a feel for what type of feedback you will receive. You can learn all about my critique process and costs at my critique website, Critique My Manuscript.
BASIC PROOFREAD INCLUDES:
End-of-line breaks
Grammatical errors
Letter, sentence, and paragraph spacing
Misspelled words
Punctuation
Typographical errors
CONTENT EDIT INCLUDES:
Characterizations
Conflict/Tension
Description
Inconsistencies
Pacing
Passive writing
Plot
Point of view
Scene point-of-view choice
Showing/Telling
COPYEDIT* INCLUDES:
Dialogue
Redundancies
Sentence clarity/structure
Word choice/repetition
*Copyedit includes a Basic Proofread
My editing service may involve the participation of other very competent editors, who I sometimes bring on board to do the first pass through for copyediting and content editing. However, these editors work under my purview, and all final proofreading, as well as all comments conveyed to the author are vetted and enhanced by my observations and suggestions. Know that any editing work you hire me for will be done to professional industry standards.
---
Format and Payment
FORMAT
I accept electronic submissions only. Please ensure that all work is formatted in Times New Roman 12-point font and double-spaced. Work should be sent as an e-mail attachment in Microsoft Word format. Electronic submissions are edited with the Microsoft Word® Track Changes feature. All changes or suggestions within the document are marked in color for easy recognition. Track Changes allows you to accept or reject any suggested changes.
PAYMENT CRITERIA
Once services are contracted, an estimated 50% of payment is due at the start of the editing work. The balance will be due at completion. Critiques are charged by the page (see my critique site for more information) and all editing services are charged by the hour.
Please contact me directly for rates and for all other pertinent information.