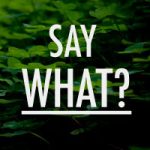 Writers often succumb to dot abuse. Well, I've heard some people call ellipses "dots." I'm not talking about the candy here. These are very useful bits of punctuation that every writer will need to use sometime. But these three little dots get tossed around too much and are used where they shouldn't.
The ellipsis consists of three evenly spaced dots (periods) with spaces between the ellipsis and surrounding letters or other marks. The only time you don't leave a space between an ellipsis "dot" and a surrounding mark is when it falls next to a quotation mark:
". . . I . . . I can't breathe . . ."
Notice that it is perfectly correct to include punctuation in speech alongside ellipses as desired:
"Am I . . . going to die . . . ?"
"But I have to get there . . . ," he said.
Ellipses have a few different functions. Here are the main uses for an ellipsis:
To indicate trailing, faltering, or interrupted speech (which is the most common use for fiction writers)
To indicate text that is missing or omitted from a quotation (there are specific style formats for that)
As with exclamation marks or italics, one can overdo the use of ellipses. I sometimes see ellipsis abuse all over the place. Ellipses used for sudden cutoff of speech (that's where you use an em dash, not an ellipsis), for pauses when there should be none, for a poetic feel (really doesn't work). Ellipses running amok when they should be used sparingly and appropriately.
Just so you know: If you are quoting material and omit words following the end of a sentence, you'll want to use four dots (one is the period for that sentence) like this:
"Six people were injured. . . . whether any survived is unknown at this time."
Another good use of ellipses (although this is not a rule but a handy style choice) is when you are showing only one side of a phone conversation, and you want to indicate those pauses showing the character is listening:
"Yes? . . . This is he . . . No, I don't want to buy a vacuum . . . no, not an encyclopedia either. Good-bye."
By the way, those "dots" are called ellipsis points or ellipsis marks. But you can call them "dot-dot-dots," if that makes you happy!