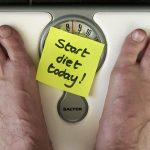 Okay, it probably sounds as if I've taken a left turn at Albuquerque (as Bugs Bunny was wont to say) by bringing up this subject of weight loss. But we've just survived the holidays, and that usually means our clothes are no longer fitting.
For real? Why talk about weight loss on a writing blog? Think about it before you start to whine. Part of a writer's strategic plan is to first and foremost stay alive to be able to write all those great books she yearns to write someday. And not just stay alive but have a healthy life, to the best of her ability (granted, some of us have to deal with difficult health challenges, disabilities, or other circumstances that limit us).
This month is going to be "writer health month" on my blog. No, don't run out of the room to raid the fridge out of apprehension and fear. Hang in there.
Just What Kind of Good Health?
Let's take this a step further. What kind of "good health" do we need? Aside from the basic good health that will (we hope) keep us from succumbing to debilitating diseases or injuries that will prevent us from being able to write, we want health that will help us use our facilities in the best way (no, I'm not talking about the local Starbuck's, although that too, in a  perambulatory sense). We want a sharp mind, keen memory, and agile fingers able to type on the keyboard (again, if possible).
In other words, although we may be limited in varying ways regarding just how great our health can be, there are always things we can do to improve our health so that we can attain our writing goals. We ignore health at our peril, for we need strong focused minds, energy and stamina, and overall body health to be able to write books.
Everyone has a different method for staying healthy, and I'm not going to go into health regimes in this post, for, as you have noticed (and maybe cringed at), the title is about weight loss.
The Sad Truth
If you are one of those rare lucky individuals with a fast metabolism and don't worry about gaining weight, you can just leave the room right now. Those of us who wake up determined that day to curtail our eating and stick to a diet (which we might do perhaps every day of our life) don't want to hear how you can eat all you want, anything, and not gain a pound. Okay, life isn't fair, we grumble. But we have to deal with it.
I don't like being overweight. I hate sitting at my computer and feeling fat. There is nothing more discouraging to me than pulling on a pair of my favorite jeans and they are too tight to zip up. Argh! But what I hate even more is dieting. What a torment!
Sadly, a writer's lot is to spend endless hours sitting in front of a computer. Sure, there are some crazy writers out there who actually jog on a treadmill with a laptop situated such that they can run while they write. Really! I can't imagine how; my brain would just rattle and my eyes would go wonkers.
But suffice it to say, many writers slowly (or quickly) accumulate unwanted pounds as they write year after year. And we all know that as we get older (for most of us—not those lucky sods who left the room), our metabolism slows to a crawl. Like a shallow creek in the heat of summer. And as we get older, we are more susceptible to illness and injury.
So being deliberate in our desire to lose or maintain a healthy weight is really an important strategic goal for a writer. And I don't mean to lecture anyone about how to go about this, for there are plenty of weight-loss plans out there. I'm just going to share what works for me as a writer with a writing schedule and a very busy life. I hope you'll share your methods in the comments!
I Hate Wasting Time
Maybe you have time to drive twenty minutes both ways to a gym and work out. I don't. I don't want to waste a minute, so just like streamlining social networking and marketing and promotion, I try to figure out the best use of my time to get the most bang out of it.
One pitfall of being a writer who works at home is access to food. If you live alone and don't have willpower, you can just keep the larder and refrigerator empty of those yummy but pound-producing snacks. However, most of us live with other people who want those yummies around, and so it's a challenge to resist them.
One solution to this is to go somewhere else to write. I have spent endless days at libraries working—yes, to get away from my dog, who wants me to throw the ball endlessly, and I'm a softie and have a hard time saying no. Really, though, one reason I go work at libraries is to be removed from the temptation to snack. And it's usually a quiet place that helps with my concentration. I can't work with noise around me. Also being at another location prevents me from getting up to wash dishes or clean house.
One best-selling author I know says she will do just about anything to keep from writing (although she loves to write). But I get that. It's so easy to get distracted, feeling guilty over that load of laundry piled on top of the dryer, staring at us as we sit trying to write.
So although I hate to waste time, it's worth it to me to spend the time to drive to a place that will afford me quiet time to concentrate without the distraction of food.
My Simple Plan
Here are some things I do to help me lose weight (which I often need to do because I really suck at willpower when it comes to food). I don't know if this will help you, but I thought I'd share my methods, and then maybe you can share some of yours in the comments.
When I wake up in the morning, I run two miles on my treadmill (slowly) before I get busy working. You may not have a treadmill. And perhaps like me, you hate to exercise outside unless the weather is pleasant. You may dislike going to health clubs, or not. Whatever your taste and location, just find some way to get in a half hour of exercise. I listen to audiobooks or uplifting music. I plan out my day as I run, and clear things off my mental plate.
My daughters subscribe to a yoga program online. They can choose the kinds of poses they want based on target areas (like positions to strengthen the back) and choose the length of the class. They then lay out a mat on the floor and follow the exercises shown on their laptop screen. If you have Internet at home, this is doable.
If you are more self-motivated, you can just create a lists of exercises to do, like jumping jacks and pushups and stretches. They key though is to get your heart rate up for a while and actually produce some sweat and heavy breathing. Go ahead, complain. You'll feel so much better though if you start the day doing this. Don't have time? No excuse. Just set your alarm an hour earlier.
Drink a liter of water—all of it—before you eat anything. Preferably after you do that half-hour run. Try to drink another one before each meal. That helps cut down your appetite.
Don't eat anything until noon. Suck it up. It won't kill you.
Eat only two meals: lunch and dinner. No snacking. Keep your daily calories down to about 500. That means something like this for each meal: an apple or orange, a serving of lean meat or other protein (like nonfat cottage cheese), and a salad (fat-free dressing or lemon juice) or some steamed or raw vegetables (that aren't starchy like potatoes). No starches (rice, bread, etc.). No sugar (Argh again!). No fats (butter, oils).
Yeah, this is a kind of torturous boot camp, but I've been able to lose five pounds a week on this program. If I really need chocolate, I will allow myself one small square as a reward at night. If I don't reward myself in some way, I'd go crazy. If I've been really good, I'll have a diet fudge ice cream bar or a skinny mocha frappuchino at Starbuck's.
And remember, you don't have to do this forever. This is just temporary misery until you get down to your desired weight. Once there, you can allow yourself to splurge from time to time to stay sane. Can't write if you go crazy, right? Many of you will agree with me, though, that there is nothing that feels better than being thin and trim.
So, I'd like to hear your thoughts? What do you do to stay healthy, without wasting too much time? What's worked for you when it comes to stirring that willpower and losing weight?
Photo Credit: Alan Cleaver via Compfight cc