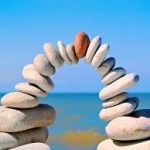 Outlining your novel in some fashion is one of the best ways to ensure you have a solid story structure. For those of you who've been following my blog awhile, you know I'm a huge proponent of structure—and I'll dare to say that any great writing instructor worth his or her salt would agree.
Because novels are so complex, it makes sense to lay out a blueprint. Face it: few people have the talent or aptitude to wing it when it comes to writing a solid story without first plotting carefully. And—I'm being honest here—every single successful author I personally know who "pantses" through the writing process suffers from varying degrees of frustration, aggravation, and huge blocks of wasted time.
Seriously. I know authors who write, and discard, numerous full drafts of a novel, taking months of precious time to arrive at the solid plot. I know other pantsers who say that writing novels is a painful, grueling process that they almost hate as much as chopped liver.
To me it's like being given the choice to go under anesthesia to have some teeth pulled or skip the meds and suffer the pain full-on. I have a friend who thinks he's being macho to decline Novocaine when he has his teeth drilled for cavities. He feels he'd be a wimp if he "succumbed" to a painless dental experience. So he bears up and suffers. What the heck for? Who is he trying to impress? The dentist? His friends?
What I'm saying here is, why suffer needlessly? Writing a great novel is hard even when you take the "easy" route of carefully plotting and outlining your story. You'll notice I put scare quotes around the word easy. Let's just say that of all the tough roads to a terrific novel, the easiest way is going to get your there faster and less painlessly.
I actually have fun writing my novels. I don't stress about them at all. Each is a magical adventure, with characters awaiting my command. And the reason I don't stress or fret or worry is I have a process that I know works.
If you're a soufflé expert, and you have a method that works every time so that your soufflé doesn't collapse into a puddle of ugliness, you approach each soufflé preparation with confidence. You don't suddenly, irrationally, worry that this one will flop.
You can get that same confidence with every novel you set about writing.
Last week I mentioned how many of my readers are struggling with outlining. They know they need to write a tight outline before they start crafting the scenes of their novel. Outlining isn't hard if you first get a handle on novel structure.
See, if you don't do your homework and know how to build strong pillars of novel components first, and if you don't know what your key scenes need to be and where they are positioned in your novel, you will stare at your outline and scratch your head. What do I put where? What should I have happen next? And this is what a lot of you writers are telling me you're doing.
So to be successful at outlining your novel, you need to see this as a 3-step process. This is what works for me. You might find it works for you too.
The 3 Steps to Successful Outlining
Let's make this simple. First, study hard to master the twelve essential pillars of novel construction. How in the world do you think you can outline a great novel if you don't have a killer concept, for example? I talked about this last week.
To bake a cake, you first need to make sure you have all the necessary ingredients. And if you want a superb cake, you'll want the finest ingredients, right? If you check your fridge and cupboard and you discover you're missing flour and eggs, guess what? You'll need to take a trip to the market and get those items before you can begin.
So before you begin to even consider writing your scenes, you need to have those ingredients set out in front of you.
Last week I talked a bit about the need for a fresh, enticing concept for your novel. But that's not all you must have (you can't make a cake with flour and water and expect it to be delicious when done). You need that compelling protagonist with a clear plot goal that the character pursues up to the climax. You need high conflict and high stakes. If you don't understand what public and personal stakes are all about and why they are super important, you need to read up on this topic.
You also need to know how to identify, lay out, and draw out your key themes. And then there are secondary characters and subplots. Voice for your characters, unique writing style, a solid understanding of scene structure. These are all ingredients for your novel. It makes no sense trying to create an outline for your story if you don't have these elements ready to throw into the mix.
So, Step 1 is nailing the key novel components. Those are the elements of your story. Make it easy on yourself. Take my fun mini video course (go at your own pace) and nail those four corner pillars.  Get my 12 Key Pillars of Novel Construction book AND the workbook and actually work through the workbook! You aren't gonna learn this stuff staring at the book cover.
Step 2 is knowing your key scenes and where they're placed. I spent months last year on my blog (see last week's post) explaining what your ten key scenes are and how they work in your story. In addition to knowing those ten scene types, you also have to know how to craft strong scenes.
While I suppose this could be a step in itself, it's more an addendum to Step 2. I also wrote countless blog posts on scene structure. We spent months at the start of 2016 looking at bestseller first pages. We also dove into my scene template and discussed the pertinent elements you need to have in your scene outline.
And that brings us to Step 3. To properly outline, you need to have in hand key information that will help you fit the scenes together like puzzle pieces. Here are some of the posts on using my scene template that will explain all you need to include in your scene outline:
https://www.livewritethrive.com/2016/02/01/using-a-scene-template-to-craft-perfect-scenes/
https://www.livewritethrive.com/2016/09/19/8721/
https://www.livewritethrive.com/2016/09/05/nailing-that-ten-scene-foundation-for-your-novel/
https://www.livewritethrive.com/2016/02/08/how-writers-can-benefit-by-outlining-their-scenes/
These are but a few of the posts, so if you need further help, search for more of these by typing "scene outline" or "scene template" in the search bar.
Use my scene template to get all your scenes down, then put them in the best order based on Step 2 (understanding the key scenes). For example, let's say you've come up with 34 scene ideas, and you've used the template so you have a clear purpose for each scene—because every scene must have a purpose in your novel—and now you want to move to the outline stage.
What's the next step? Find those scenes that fit into the slots for your ten key scenes. Identify the scene that presents your inciting incident. Then find the midpoint scene. Then the big scene at the climax, followed by the wrap-up denouement scene. Find your pinch point scenes and get those in place. Keep shuffling through those scenes and putting them in the right places until you have those ten scenes.
Then start layering. Put in the transitional scenes: the reaction to the actions. The processing and decision scenes. Remember the analogy of filling the jar? Start with the big rocks, then add the pebbles, then the sand, then the water. This method works every time if you have a mastery of your essential pillars of novel construction.
Step 3 is using the template (or creating a scene summary using the template's elements) so you have those scenes are laid out nicely in order. Three steps. It's not rocket science.
Of course, you can keep this loose enough to add and shift. I've often added many scenes to a novel as I'm writing—ones I hadn't thought of but were perfect for the story. When you have the framework in place, it allows for wondrous creativity and spontaneity.
Don't be deceived by those who say outlining or plotting destroys creativity. It's quite the opposite! A framework allows for the best creativity. Think of those eighty-eight piano keys and how many thousands of diverse and magnificent pieces have been created within the framework and limitation of those keys.
These three steps will ensure your success. Nail your pillars. Then nail your understanding of the ten key scenes and the natural action-reaction cycle of behavior. Then use the scene template to get all (or most) of your scenes down, in order, clear of each one's purpose in helping or hindering your protagonist from reaching his goal.
Any questions? What is the hardest challenge for you in this process? Share in the comments.