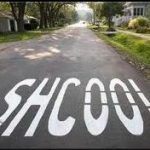 Grammar mistakes make you laugh . . . except when someone points one out in your novel.
We see them everywhere: on signs in storefronts, on menus (especially), and building marquees. We just can't believe some of the things people accidentally write (for, surely, they aren't making those gaffes on purpose)!
"The average North American consumes more than 4,000 Africans." (Hearty appetites?)
"Toilet only for disabled elderly pregnant children." (See many of those around?)
Does this make you cringe?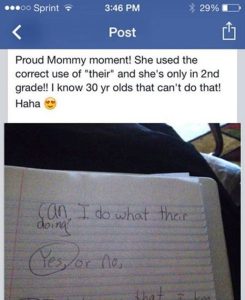 Uh . . . no comment.
"Violators will be towed and find $50." (Hmmm, punishment and reward?)
And then there's the line on the McDonald's marquee: "Over 10 billion severed." Maybe that's where Soylent Green's inspiration came from.
I could go on all day. Maybe even all year and never even scratch the surface of all the mangling of language evident in the world.
We writers want to wield, craft, and cleverly (not cleaver-ly . . . sorry, that severed thing is rattling in my brain) use language. Not mangle it.
Maybe your novels feature characters who mangle their words. That's fine, so long as it's clear they're doing the mangling and not you, the uninformed writer.
Here are a couple of excerpts from my handy grammar guide Say What?:
Are You Infamous or More Than Famous?
I couldn't resist devoting one entry on this since one of my favorite bits in the movie The Three Amigos (although there are so many good bits!) is when the three actors get the urgent telegram requesting them to come down to Mexico to face the infamous El Guapo.
What follows is a little explanation from one amigo to the other, saying that "infamous means 'more than famous.'"
For the record, in case you don't know the meaning of the word, infamous means having an evil reputation, or, when describing an act—an infamous crime—you would be emphasizing the disgrace this act brings upon the one perpetrating it.
There is a slight difference, also, between infamous and notorious. Both mean "well-known for some disreputable or wicked quality, deed, or event," but check out this difference:
Notorious emphasizes the "well-known" aspect and is often misused to just apply to famous (not infamous) individuals or events.
Infamous emphasizes the wickedness aspect, and the person doesn't have to be well known. You can have infamous behavior and be a nobody.
And if you want to delve into another "amigo" word explanation, the bit on the meaning of plethora between El Guapo and his sidekick is too funny. Trust me and just watch the movie.
And another:
I May Be Wrong, Maybe . . .
It seems a lot of writers use maybe in the place of "may be" a bit too often, maybe.
The word maybe is an adverb (do you remember what those are? They modify a verb). It means perhaps. So anytime you can use perhaps in the spot you want to write maybe, you are A-OK.
When are you not supposed to use maybe and should use may be instead? Remember, may is a verb. If you can replace may with might, you need to use may be.
You may go outside if I say so.
You may do it anyway.
You may be a bit belligerent.
You may be tuning me out. But I'm used to it.
Just think "might be" or "could be." Or maybe not.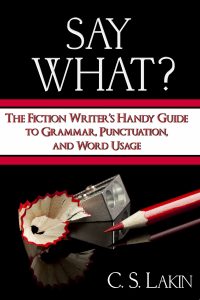 You just might need this book. Get it here, and impress all your friends with all the cool grammar and usage tips you learn!
Want to point out some fun gaffes you've seen lately? Share in the comments.
Laughing at gaffes is fun, but we don't want our work ridiculed!  Study Say What? The Handy Fiction Writer's Guide to Grammar, Punctuation, and Word Usage to avoid embarrassment.