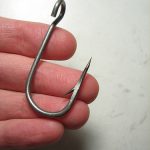 For this week's Throwback Thursday, we're looking at excerpts from past posts on Live Write Thrive that tie in with our exploration on scene structure.
From Hook 'Em on the First Cast:
 Hook, Line, and Sinker
What is a hook all about anyway? It's a line that snags your reader and pulls them into the story. Often someone flipping through your book or looking at the first page online at Amazon.com will just read the first few lines. I have heard agents and acquisition editors say that they will pretty much decide to either stop or continue reading based on that first sentence, or possibly the first paragraph.
Yikes! So, that first line should be a doozy and one that really makes an impression. As I said before, don't get so hung up on writing that first paragraph that you don't move forward. You will probably come back and rewrite it, unless you came up with an opening line ages ago and now you're finally putting that masterpiece in place. Sometimes as we're writing our novel a great first line will come to us. Other times we'll find a great first line somewhere on page three or four. Continue Reading…