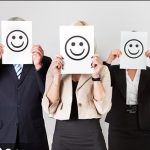 When critiquing manuscripts, I often wonder how much time writers spend thinking about the personality types of their characters. Because so many characters are either stereotyped, shallow, or boring.
I've written a lot about characters and explained that ordinary people are boring. While we want to populate our stories with believable characters, we should avoid ordinary and boring—at least with our protagonist. You might have a minor character who is irritatingly boring to your protagonist, and that character might have a great role in the story.
But you don't want to bore your readers with flat, uninteresting characters. I hope you can see the difference.
What's "Larger Than Life"?
You may have heard that fiction writers should create characters who are "larger than life." That's a bit puzzling because in life there are all types. How is one "larger" than another? And you don't want to go to the extremes of hyperbole or exaggeration with all your characters. If you do so, your novel will be a parody of life, not a slice of life (though, if you are aiming for parody and great humor, that's fine). Continue Reading…