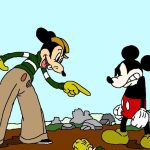 What would a novel be without a good antagonist or two? There are some wonderful "Rival" archetypes that you might consider developing to give your novel depth and provide strong conflict.
Last week we looked at some of the archetypes that can be found in allies and friends of the protagonist.
Your novel needs a cast of characters, all playing specific roles. And sometimes a character will play different roles at different points in the story. Think of these as masks a character might wear.
We all slip into a variety of roles in our lives, as I mentioned in the earlier posts on this topic. This will depend on who we're with and what the situation is. A best friend might take on a Magi role when giving needed, hard advice. But that same friend might turn into a Joker archetype when he's had a few drinks, and might even act patronizingly, assuming a type of King archetype if his "domain" is threatened.
Archetypes resonate deep within us, and so when we writers apply archetypal attributes to our characters, our readers find it easier to relate to and connect with those characters. Continue Reading…