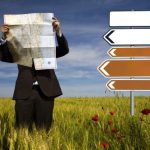 Plot twists are important and powerful elements in a novel. We took a quick look at twists last week, and I explained that you can have these twists in various places in your story, and they can vary in strength.
One novel may have lots of small twists that are basically complications and obstacles the protagonist encounters. But often you'll have one or two huge twists that wrench the story, and those are terrific when done well.
So what do you need to keep in mind when creating a plot twist?
Twists are all about redirection. Going against expectations.
Think about what readers are expecting and hoping for at a given moment in the story. Then keep twisting the story into new directions that stun and delight them. Continue Reading…