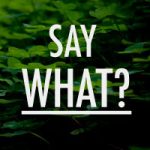 A little goes a long way when it comes to adjectives. And you can have too much of a good thing sometimes (even—dare I say it? —chocolate).
While adjectives help your readers get a clearer picture of the person or thing you want them to see, not every adjective is essential. Eliminating one may improve a sentence.
Here's an example:
The expedition climbed the high mountain.
No need for that adjective in front of mountain; we know mountains are high.
Three-year-old Davis cheered for the brave superhero.
Bravery is one of the characteristics that makes a superhero a superhero. Strong nouns don't need the assistance of an adjective. Continue Reading…