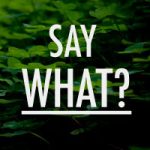 I'm going to spend a few posts on what I think is an interesting and sometimes confusing component of our language: the subjunctive mood.
Contrary to what some say, the subjunctive is not a tense; it's a mood. Tense refers to when an action takes place (past, present, future), while mood merely reflects how the speaker feels about the action. When deciding whether to use this "mood" or not, a writer needs to stop and think about the intent in the sentence she wants to write. I often see the subjunctive used incorrectly, or not used when it should be.
The subjunctive mood is rarely used in English, but it is widely used in Spanish and other languages. Subjunctive forms of verbs are typically used to express various states of unreality such as wish, emotion, possibility, judgment, opinion, necessity, or action that has not yet occurred.
Let's start with a simple comparison. English verbs have three moods:  indicative, imperative, and subjunctive.
I will go to sleep now.  Do you want to go to sleep now? (Indicative mood: used to state a fact or opinion or ask a question)
Go to sleep now!  Please, go to sleep now. (Imperative mood: expresses a command, gives a direction, or makes a request)
If I were you, I would go to sleep now. (Subjunctive mood: expresses wishes, suggestions, and other attitudes)