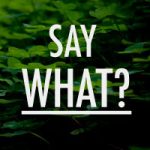 Writers often hyphenate when they aren't supposed to. It always seems to make sense that if you have two words that sound like they're connected, you should stick a hyphen between them. But not so. Here are 
some
word combinations that are usually open:
Proper nouns and adjectives relating to geography or nationality, unless the first term is a prefix:
Chinese Americans, North Central region, African American, African American president
But you would write: US-Mexico border, Spanish-American organizations.
Chemical terms:
sodium chloride, sodium chloride solution
Foreign phrases—open unless hyphenated in the original language. Foreign phrases and words are also italicized:
A priori, in vitro fertilization, but vis-à-vis for clarity and meaning. (The actual meaning is face-to-face, also hyphenated.)
Numbers and abbreviations:
25 mi. trip, 3 oz. cup, 5K race
Numbers and percentages:
Noun and numeral or enumerator:
Type 2 diabetes, size 12 font, page 1 placement
So if you're writing a popular paranormal novel, you might be writing about an American Martian Type 4 undead vampire zombie. No hyphens needed!