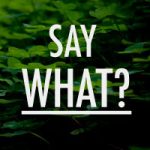 Speaker tags can only use verbs that can be used to create speech. Writers often get creative in their speaker tags, but structurally they are incorrect.
Wrong:
"I love you," he smiled (or laughed, joked, lied, sighed, coughed, chuckled, etc.).
You can't sigh speech or cough speech, so only use verbs like said, asked, replied. Simpler is better. The word said is most recommended because it is considered invisible—the reader is so used to seeing that word that she glosses over it, which is a good thing.
Correct:
"I love you," he said with a smile.
"I love you." He coughed, then added, "I mean . . . I think I do."