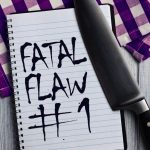 Welcome to our new, exciting course for the year! Four editors are going to delve into The 12 Fatal Flaws of Fiction Writing and help you learn to identify and correct faulty writing that can weaken your fiction. You learned last year how to construct a solid novel, but if your writing is flawed, your book will fail.
With every post giving you Before and After passage examples, you will get a clear picture of what not to do as well as how to spot and fix such travesties. Be sure to join in on the discussion and share your thoughts and examples (both good and bad) to help your fellow writers. And ask questions if you need elaboration. We want to help you be the best writer you can be! So let's begin!
Editor Rachel Starr Thomson tackles Fatal Flaw # 1: Overwriting
When you put pen to paper, it's fully possible to underwrite. To fail to say what you meant to say. But just as possible, and more common, is overwriting—the tendency to say too much, in too many words, and crowd out the forest for the trees.
Overwriting takes many forms.  Wordiness. Overuse of modifiers and weak sentence construction. Vagueness. Redundancy. Convolution. Pushing metaphors so far beyond the breaking point that they cease to be enlightening and become ridiculous instead. Purple prose. Continue Reading…