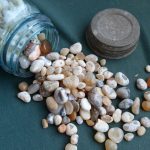 Last week we took a look at the first of five key turning points novelists need to establish in their story. I'm going to be giving you the first layer of my 10-20-30 Scene Builder concept, and these first ten scenes are the foundation and sheer walls of your story.
If you frame up your story first with these ten scenes, you can add the next ten, and the next, building layers and filling in cracks.
Is the Jar Full Yet?
Have you ever seen anyone fill a jar with rocks and ask, "Is the jar full now?" Teachers love to do this with their young students. The students say yes, it's full, but then the teacher pours in pebbles, which fill in the spaces between the rocks. "Is it full yet?" the teacher asks.
And so it goes. After the pebbles, sand is poured in, to fill the tiniest spaces yet. But the jar isn't full! The last element added is water. And once water somehow finds space and fills to the brim, the jar is now declared full. Continue Reading…