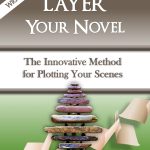 If you write novels, you know how hard it is to do. You have to pull all your ideas, your scenes, your characters, and your themes together into a coherent, solid story. And while there are lots of books and blogs that teach novel writing, none take this innovative, practical step-by-step approach.
I'm thrilled to announce the release of my latest writing craft book, Layer Your Novel.
I say "thrilled" because this one was not just a long time in coming but is also, I feel, one of the most helpful books on crafting a novel that you'll come across.
I don't say this to brag—honestly!
Everything I write in my blog, newsletter, and writing craft books is a compilation of decades of learning AND frustration.
My biggest motivation for putting millions of words into these channels is to help YOU love your writing journey. But how can you love it if you are continually confused, frustrated, and unsure how to plot your course?