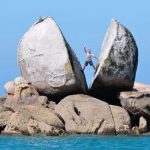 Do you do this? Maybe you have an idea how your novel will start. You might also picture the climax scene and the ending. Then, you possibly have some great ideas for scenes showing conflict or some plot complications. But this isn't the same as starting with a list of needed scenes and brainstorming to design those scenes to frame your story.
Framing is everything. I often liken writing a novel to building a house. I talked about this last week. If you want a sturdy, well-built house, you can't just cut a bunch of neat-looking two-by-sixes and start hammering. You need a strong framework built on a solid foundation. Once you have that, you can proceed to the next tasks, like running electrical and nailing siding.
I go into great depth in my book The 12 Key Pillars of Novel Construction to show writers what the major novel components are and how to build them. But that's not what we're talking about here. This is about the body of your scenes and how to puzzle-piece them together the best way—by layering.