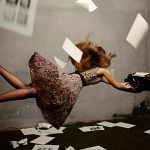 With the mayhem of NaNoWriMo (National Novel-Writing Month) approaching, I'd like to encourage writers to avoid wasting time and effort throwing something together in the month of November that's basically a train wreck.
If your aim is just to complete a "novel" (let's just call it that for now …) of about 50,000 words in one month, and the only reason for doing so is to feel good about meeting your commitment, then fine. If you don't care about your final result, then fine. Just write your head off for a month, smile at your accomplishment, then throw the manuscript out.
I've been hired by some aspiring authors to critique and/or edit their NaNo product. I do believe it was a waste of their money to hire me to work on something that was such a mess (maybe a fun mess to create) but that had no potential at all to be fashioned into a solid novel.
You've heard it from me over and over. Novels need structure. And the best time to lay out that structure is BEFORE you start writing scenes. Put an outline together after you've studied novel structure. Use my 12 Key Pillars of Novel Construction book and workbook, and study Layer Your Novel.  Continue Reading…