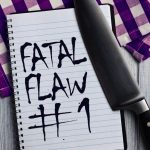 We're wrapping up our look at Fatal Flaw # 1: Overwriting. Fiction writers often overwrite, and have trouble seeing how this manifests in their work. Our savvy editors have covered repetition and redundancy, how much detail to include and leave out, and just plain clunky writing. This week editor Robin Patchen dives into purple prose to show you what that is and how to avoid it in your writing.
What do you want people to experience when they read your novel? Do you want them to marvel at your fabulous writing skills? Are you hoping they'll be impressed by your outstanding grasp of grammar? Perhaps you want to dazzle them with your exceptional vocabulary?
Or do you want them to experience a story?
Truth is, often times, you can either impress people with your prose or you can tell them a story, but you can't do both. So many of my editing clients' manuscripts are riddled with prose so filled with flowery language that the meaning is lost. I find myself offering the same advice over and over, my take on Nike's slogan: Just say it. Continue Reading…