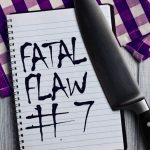 This week editor Linda Clare continues our look into Fatal Flaw #7—Lack of Pacing and Tension. Infusing our fiction with strong pacing and gripping tension has much to do with leaving out boring bits and keeping readers riveted to compelling characters. It's not just about plot.
Last week editor Rachel Starr Thomson introduced our month's look at Fatal Flaw #7 —Lack of Pacing and Tension, and we saw how the choice of words and rhythm of sentences can affect pacing and tension.
This week, let's take a look at the ways pacing and tension play out at the scene level. Your first draft may contain lots of unnecessary scenes. But when you revise, test your draft against these three points when deciding if a scene should stay or be cut (or reworked).
Five Easy Plot Points
Whether you're a plotter or a pantster, there will come a time when you need to be sure you maintain tension in the story by identifying the five most important scenes in the entire story. These scenes are often called PLOT POINTS—scenes that radically alter the course of the story.
If you aren't sure how to identify a plot-point scene, you might try writing one summary sentence for each scene in your story. I have counseled my students to use three-by-five cards or sticky notes, to enable them to string the story in a timeline, then stand back to see the way the story moves. When you see the forest instead of the trees, you get a better idea of the pacing and tension. Continue Reading…