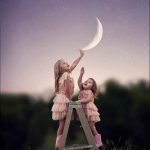 Let's say you have a great idea for an article, blog post, short story, or novel. You've brainstormed your main points and you feel the topic is fresh and interesting.
After a bit of work, you come to the moment when you are ready to write. You hope to infuse that initial excitement about your idea into your writing, but when you get down to the nuts and bolts of actually putting the idea down on paper (or typed into your Word document), it seems to fall flat.
You know it's not the idea that's the problem. Nor is it your writing ability; you have the chops to write well. So what's the problem?
The Difficult Transition from Idea to Execution
Sometimes that transition from idea to execution causes problems. At times the story seems to be hovering over some lost horizon. You could be wandering a bit lost, and as the cliché goes: you can't see the forest for the trees. And if you are working on something as enormous as a novel, it can seem like a huge forest with so many trees (elements) that your vision can get muddled and your eyes tired from trying to "see the big picture" all the time. Continue Reading…