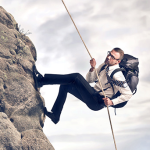 I tell writers often they are failing to "advance their plot." What does that mean, and why does it matter?
I keep seeing novels that "land on my desk" that start off with a great situation but then veer off into the hinterlands. Other novels don't even get out the gate. The opening scenes seem to have nothing to do with the premise of their story. I'll go back and reread a synopsis and shake my head. Where is the premise setup? Who exactly is the protagonist?
This is such a problem that I'm going to share some points from a post I wrote two years ago on the topic.
If your scenes aren't "advancing the plot," you have a serious problem.
Each scene should reveal some new information, but not just anything—the information needs to help move the plot forward. The bottom line? Every scene must have a point to it or it shouldn't be in your novel. Continue Reading…