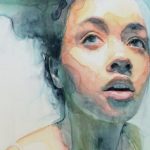 We began this series on masterful writing last week by taking a look at James Lee Burke's wonderful character descriptions. All too often writers—beginning and seasoned—skimp on description. Or if they do manage a few lines, they're uninspired, boring, or laden with stereotype. Good writing—masterful writing—takes hard work.
But it's not just effort that's involved. More than effort is needed to craft masterful description. Description is more than what the eye sees. It involves making judgments, coming to conclusions, forming impressions. Since our descriptions must be filtered through our POV character's mind and heart, instead of thinking of description as a laundry list of items (hair color, eye color, shoe brand), they should reveal just as much, if not more, about our POV character as the person (or place or animal or food—anything) being described.
Think how differently you might approach describing a character who walks into a room if you focused more on the one witnessing than the one being described.
I mentioned in the last post that you must truly know your characters through and through. You must create deep, rich, complex characters full of experience, opinions, tastes, beliefs, sensibilities, prejudices, wounds, knowledge, and so much more. If you don't, you can't mine deeply into description fully in POV. Continue Reading…