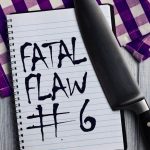 Editor Rachel Starr Thomson dives into our new monthly fatal flaw: # 6 Telling, instead of Showing, Story . Writers often succumb to this fatal flaw of fiction writing, explaining and telling and summarizing instead of showing action as it's happening. Topics this week cover three ways writers can RUE (resist the urge to explain) and hook readers will dynamic scenes.
Once upon a time, we were storytellers.
We wrote like Homer:
The men flew to arms;
all the gates were opened, and the people thronged through them,
horse and foot, with the tramp as of a great multitude.
Or like whoever wrote Beowulf:
Hwæt! w? G?r-Dena in ge?r-dagum
þ?od-cyninga þrym gefr?non . . .
Okay, never mind about Beowful. The point is, stories were told, and while that meant some especially poetic details were thrown in, for the most part stories got summarized, with huge swaths of action happening from a long-distance view, like in the Iliad above. Continue Reading…