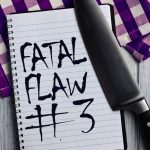 This month our editors are tackling Fatal Flaw #3: Weak Construction. Often fiction sags and wilts due to lackluster word choice, uninteresting or incorrect sentence structure, and use of passive voice and vagueness. Editor Rachel Starr Thomson kicks off this month's flaw with an introduction to the topic.
Annie Dillard wrote that one who wants to be a writer should like sentences. In reality, I think, most of us write because we have stories to tell, but the love of words (and sentences, and paragraphs) must come into it, or else we would all be making movies instead instead of writing books.
Along the way we learn that not every sentence is created equal: that our words and how we string them together will give life to the stories we tell or drain them dry.
Thankfully, while natural talent and a good ear certainly help, good sentence writing is not some mystical skill that only the most devoted Jedi will ever attain. This month's topic is weak sentence construction—or more specifically, how to avoid it. Continue Reading…