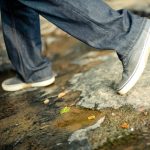 Scene structure seems to be the bane of most novelists and one of the most common causes of novel failure. Writing scenes is not as easy as it looks. There are a number of key components that work together to create a dynamic, effective scene, so over the next weeks to kick off this new writing year, we're going to deconstruct the scene.
No, there isn't one way to right a perfect scene. Clearly, scenes are going to vary in style, composition, and length depending on a whole lot of factors. A novel's opening scene is going to require different components than a middle or ending scene. A scene in a thriller is going to play out differently than a scene in a romantic comedy.
However, regardless of genre or the position of a scene in a novel, we can count on some basic framework principles that will help with solid scene structure. Once you frame up a building, it's solid. You can then add your walls and electrical wiring and windows. So we're going to tackle the framework first.
Scenes are the building blocks of our stories, so it's essential we get this structure under our belts. Just what does that idiom mean anyway? Once we eat something and digest it, it's now under our belt. It's a part of us. So this in-depth look is meant to get you chewing on scene structure and help you get it into your system so that every time you sit down to write, you can crank out terrific scenes. Continue Reading…