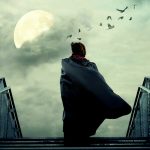 I think it's a good thing to take a look at why you write. If you're writing because you must, because you feel driven and have a deep desire to reach an audience and have a readership that loves your books, it's good to step back and examine your motivation.
If your desire is to entertain, motivate, inspire, move, elicit a certain reaction, or push an agenda, then it's important to understand why this is important to you.
Why? Because once you understand your need to write and what is driving it, you can honestly and practically both assess and plan how you will handle your writing life.
For, I'm talking about writing as a life—for those who write because they have to. Not the person who gets one great idea and throws together what they feel will be a big best seller to cash out, but the person who is deluged with words, ideas, stories, characters, premises. For such people, writing is life. A life without writing would be barren and miserable. Continue Reading…