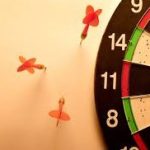 I'm going to share with you the #1 reason I feel novelists—and probably many nonfiction writers—see their books flop instead of topping the best-seller charts.
They fail to target genre.
You may think that "targeting genre" is merely about choosing a category for your book. But it's much more than that.
Don't Just Slap On a Genre Label
Just stating that your book is a romance or a mystery or a fantasy novel gets you nowhere. In fact, generalizing the genre of your book only puts it in a gigantic virtual pile of other books with that same label. And with the current glut of ebooks, that makes it close to impossible for readers to discover your book.
You may have been taught that generalizing is the best strategy—cast a wide net and you'll pull in the most readers. But, in reality, the opposite is true. The more you can specialize and tailor your book to a narrow slot for a specific audience looking for a specific book, the better your chances at big sales. Continue Reading…