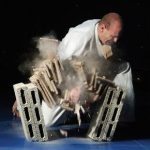 I'm going to spend some weeks on tearing apart novel structure. I've hesitated over the years to get into this.
Why? Because there are tons of books and blog posts that cover story structure, and a lot of great ones too, so why should I add my two cents to the mix?
Because the longer I thought about it, the more I realized I have some unique approaches and twists to the standard three-act structure. Well, let's just say I'm not always a team player on this court.
And, as well, I want to share with you a method of building your novel's framework that I'm playing with. I call it the 10-20-30 Scene Builder. The purpose of using a "staged" or multilevel process is to help you flesh out that basic story idea you have. And one thing I'm excited about showing you is my special way of layering subplots. Continue Reading…