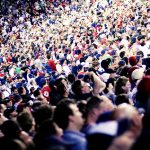 I've been talking recently about eBook publishing and why it is exploding and overtaking traditional publishing.
Why am I bringing out all this information about eBooks? Am I trying to tell you to turn your back on traditional publishing? No, not at all. But in order for us authors to plan a strategy in order to write for life, we need to see the trends. And the eBook trend is only one factor (albeit a huge one) in the shifting publishing paradigm.
I would like to tell you there is an even more powerful shift that will and already does affect you as a career author, one you've probably heard about as it applies to other industries and parts of society but now sees its great need in the world of authors who write with passion and commitment.
And that is the power of community (or tribe, as author Seth Godin calls it) to create movement, change, and impact. And rather than aim to sell a book in the millions just to turn a modest profit, I'd like to challenge you to think a little differently about success.