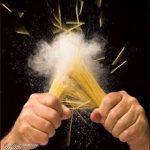 We all have bad or counterproductive habits, and sometimes we make excuses for them. "I just can't stop ___" (Fill in the blank with your standby excuse). Well, if some of your habits are getting in the way of being a super-productive writer, then maybe you will have to do away with them.
And the easiest way to do so is to replace them with some new habits.
We've been looking at the ABCs to becoming super productive in our writing so we can crank out books. Not just any books but great books. And the way to do that is to "know thyself." It's a threefold analysis that gets us looking at our attitudes, biology, and choices.
Though we touched on attitude at the start of the year, we'll be wrapping up with a key obstacle to productivity: self-sabotage. But before we can go there, we need to look further into the "C" of those ABCs: choices. And while we may feel that habits aren't about choices (because we either can't help doing those repeated things that prevent us from being productive or we're not aware we do them), the sooner we own our pesky habits and set about changing them, the sooner we'll be cranking out books. Continue Reading…