I'm a novelist, a copyeditor, a writing coach, a mom, a backpacker, and a whole bunch of other things.
I teach workshops on the writing craft at writers' conferences and retreats. If your writers' group would like to have me teach, drop me a line. I live in California, near San Francisco, just so you know how far away I am from you and your writer friends.
I also enjoy guest blogging, so contact me if you'd like me to write a post on writing, editing, or Labrador retrievers. I am also quite the expert on pygmy goats. I ran a commercial pygmy goat farm for ten years and delivered a lot of kids! So, if you need some goat advice, I'm your gal.
I Really Love My Day Job!
I love to help writers with their novels. I specialize in thorough annotated critiques (I do more than 200 partial and full manuscripts a year!), so if you have a manuscript that needs some work or you're not sure if it does, check out my site specifically dedicated to my critique services. You'll find a lot of informative articles on why you might need a critique and how to choose the right editor for your needs. Not many copyeditors are writers, and few know how to critique all the major elements that hold a novel together.
If you would like me to edit your manuscript, I do it all—from substantive editing to proofreading. I'm fast, dependable, and dedicated to helping your write your best book!
If You're Not Sure What Help You Need
If you're not sure what kinds of editing services are available, the description on my editing page will help you figure that out.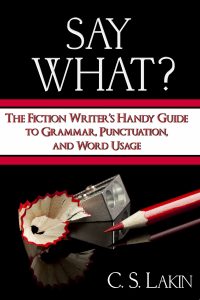 I highly recommend beginning novelists have a full manuscript critique before considering any editing. Don't waste years and gobs of money trying to sell and promote a book that really isn't ready for publication. And how can you be sure it is ready? By having a professional critique done either before you go from outline to first draft, or after that draft (or tenth rewrite) is done.
The earlier in the writing stage you can get a critique, the better. And if you are not sure if you are even close to a professional, well-structured novel, have the first few (critical) chapters critiqued, and once you get back the comments, you'll have a clearer picture of where you are on the learning curve.
Most authors will tell you a critique has been the most invaluable feedback they've ever received and perhaps the best money spent in their writing journey.
I've also written twenty novels in some different genres, most traditionally published and a few that are only in ebook format. I was told to stick to one genre by many agents and publishers, but I just don't listen, and so write what I love to write, which suits my eclectic tastes. You can actually buy them and read them too!
Here's a brief video in which I talk about branding and writing in various genres. This should give you a feel for what I'm about!
Contemporary Fiction
You can check out descriptions and links to purchasing my contemporary fiction in various forms (printed book, eBook, audio book) at my Facebook Author Page here.
Fantasy
Here are some of the books in my fantasy series:
Young Adult Sci-Fi
My very cool Young Adult Sci-Fi Time Travel Adventure chock-full of physics and romance! A bit reminiscent of A Wrinkle in Time.