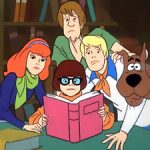 Archtypes can be inspirational and helpful in not just crafting your hero or heroine but all your secondary characters. Don't ask me why I thought of Scooby-Doo. I just did. Maybe because each character in the Scooby gang is a specific archetype. Not too hard to figure out.
We've been looking at archetypes over the last few weeks, and I hope you've seen how these personality or character "types" can bring richness and depth to your characters.
Whether you start out with an archetype in mind and then create a character with those attributes or you start with your basic characters already formed and then deepen them with archetypal traits, you will find that utilizing these various types will help make your story great.
I've touched a bit on what kinds of supporting characters are needed in a novel, but let's go deeper into some of the "supporting archetypes" you might choose. Continue Reading…