Master novel structure by learning about the Ten Key Scenes. They provide the sturdy framework for a successful story! It's all in the new installment in The Writer's Toolbox Series: Layer Your Novel. HERE. Available in Kindle and paperback.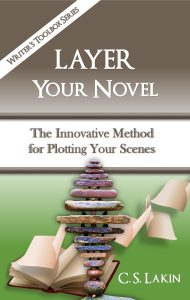 Want to be a super-productive writer? If so, you have to tackle your Productivity ABCs: attitudes, biology, and choices. If you want to crank out great books, you have to make the adjustments. It's all here in my new release: Crank It Out! Get yours on Kindle or in paperback HERE!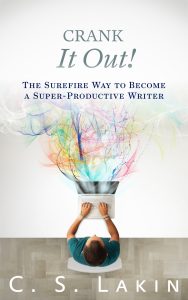 5 Editors Tackle the 12 Fatal Flaws of Fiction Writing. No other writing craft book goes into such depth to uncover the fatal flaws of fiction writing and shows how to remedy them. With more than sixty Before and After passages, this invaluable resource arms fiction writers with all the knowledge they need to seek out flaws in their own writing and rework into strong, stellar prose. Available The 12 Fatal Flaws of Fiction Writing.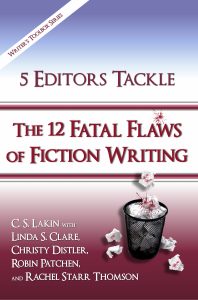 The 12 Key Pillars of Novel Construction: Your Blueprint for Building a Strong Story. This comprehensive writing craft book takes the mystery and confusion out of novel construction. Learn how to take your basic idea and develop it into a killer concept, and work through all the essential "pillars" needed to support your story, passing all your inspection checklists, in order to ensure you've built a solid novel. Be sure to get the companion workbook HERE in order to really delve into constructing your story! Buy The 12 Key Pillars of Novel Construction in paperback or as a Kindle ebook.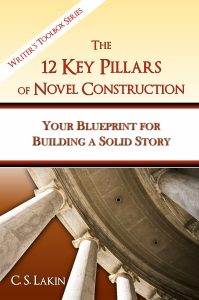 Shoot Your Novel: Cinematic Technique to Supercharge Your Writing. An in-depth guide for novelists that shows exactly how to utilize visually charged techniques that filmmakers and directors use. "Unique and terrific!" says Michael Hauge, Hollywood screenwriting consultant and best-selling author. Using examples from both screenplays and novels, Shoot Your Novel "is an essential guide for any fiction writer." Purchase as an ebook here or in print here.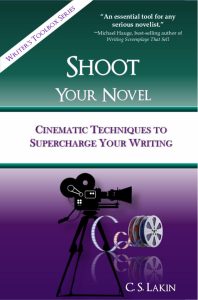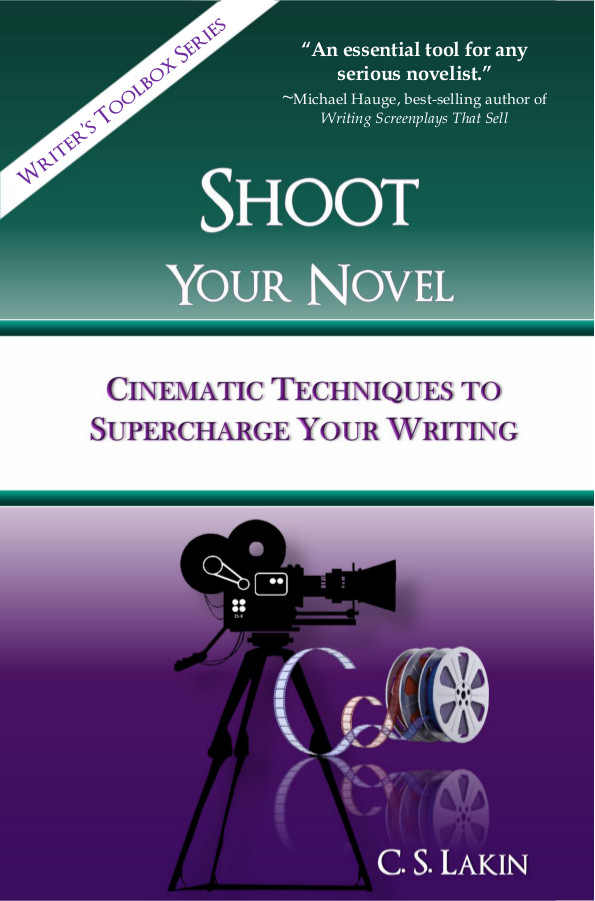 Writing the Heart of Your Story: The Secret to Crafting an Unforgettable Novel. Now you can have the entire year's course featured on Live Write Thrive, plus more, as an ebook on Kindle, Nook, or other formats, as well as in paperback.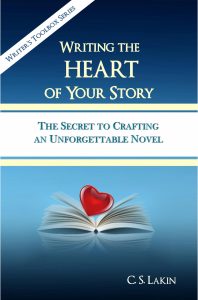 NEW SECOND EDITION WITH MORE THAN 50 NEW ENTRIES!
Say What? The Fiction Writer's Handy Guide to Grammar, Punctuation, and Word Usage. Grammar was never this fun in school! The compilation of four years of posts from Say What? on Live Write Thrive PLUS dozens of helpful tips just for fiction writers. Purchase it HERE in print or as on Kindle.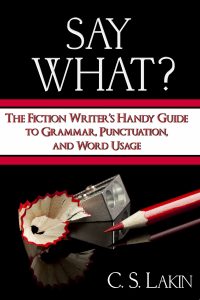 FREE resources I've created for writers:
First-Page Checklist for Novels
Dos and Don'ts When Querying an Agent
The Right Way to Write a Query Letter
20 Key Scenes for Romance Structure
Action-Reaction Second Layer Chart
The Inspection Checklists for The 12 Key Pillars of Novel Construction (to be used with the book):
Other people's articles I highly recommend:
Jerry Jenkins has a great article and free download on How to Write a Book from Start to Finish in 20 Steps. Don't miss this one!
How to Write a Great Synopsis ~ by Jeff Gerke
How to Become an Author ~ by Jerry B. Jenkins, international best-seller author and writing coach
How to Outline a Novel ~ also by Jerry B. Jenkins
Posts I've written as a guest blogger:
8 Steps to Writing a Perfect Scene—Every Time ~ on Jerry Jenkins's blog
Warning! Are You Sabotaging Your Success as an Author? ~ on Write to Done
How Writer's Can Optimize Their Book's Description on Amazon ~ on Jane Friedman
The 10 Key Scenes Your Need to Frame Up Your Novel ~ on Writers Helping Writers
The 3 Essential Elements to Creating a Believable Romance ~ on Romance University
Characters and Their Sensory Limitations ~  on Writers Fun Zone
Writers, Are You Willing to Play the Waiting Game? ~ on The Book Designer
5 Steps to Ensure Your Novel Is a Best Seller ~ on Write to Done
Is Backstory Killing Your Plot? ~ on The Write Life
The Secret of Great Memoir: The Mature Self ~ on Jane Friedman
Showing through Your Character's Senses ~ on Kristina Stanley
The #NoLimits Way to Infuse Your Novel with Color and Sound ~ on Seekerville
3 Crucial Editing Phases All Authors Need to Sell More Books ~ on Bookbub's Blog
10 Important Things Writers Often Omit from Their Scenes ~ on Indies Unlimited
Three Must-Know Ways for Creating Meaningful Settings in Your Novel ~ on Helping Writers Become Authors
Why Every Novel Needs Tension ~ on Jennifer Blanchard
The Secret to Creating a Really Good Bad Guy ~ on Writers Helping Writers
How to Find Your Trademark Writing Style ~ on Write to Done
How to Supercharge Your Novel Using Colors and Sounds ~ on Positive Writer
How Image Systems Can Supercharge a Novel ~ on Writers Helping Writers
How to Supercharge Your Writing – Use This Cinematic Technique ~ on Write to Done
6 Visual Storytelling Techniques to Borrow from Film and TV ~ on The Write Life
How Writers Can "Shoot" Their Novel with Cinematic Flair ~ on Write Hacked
The Burden of Your Novel's Opening Scene ~ on Storyfix
How to Write Well – 10 Essential Self-Editing Tips ~ on Write to Done
Writing: The Grammar Principle ~ on ALLI self-publishing advice blog
Ask Questions to Find Your Story ~ on Writers Helping Writers
3 Grammar Gremlins That Sometimes Sneak into Our Writing ~ on Grammarly
6 Quick Tricks to Help You Tighten Up Your Writing ~ on The Positive Writer
Genre vs. Author Platform: Which Matters More ~ on The Book Designer
Quick Tricks to Trimming the Fat from Your Writing ~ on Grammarly
How to Tap into Your Passion Every Time You Write ~ on Write to Done
The Secret to "Show, Don't Tell" ~ on Helping Writers Become Authors
5 Key Questions to Ask as You Write Your Novel ~ on Write to Done
Getting Perspective in Your Writing Journey ~ in Writer's Digest Magazine (Chuck Sambuchino's blog)
Manuscript Critiques–A Help or a Hindrance? ~ on The Book Designer
Writing the Heart of Your Story ~ On The Creative Penn
The Right Copyeditor for an Independent Author ~ On The Alliance of Independent Authors Advice Blog
3 Questions You Must Ask Your Characters ~ On Larry Brooks's Blog Storyfixs
The Plot Thickens ~ On The Bookshelf Muse
4 Ways to Find the Right Freelance Editor ~ On Jane Friedman
The Mystery of Success ~ On Mystery Writing is Murder (Elizabeth Craig)
How to Use Layers to Enhance Your Plot ~ On The Write Practice
Writing for Life: 5 Practical Goals for Writers ~ On The Creative Penn
The Blessing of Discouragement ~ On Pen and Prosper
One Dish of Critique–But Hold the Criticism ~ On Wordplay–Helping Writers Become Authors (K. M. Weiland)
Does It Really Pay to Get Your Manuscript Critiqued? ~ On Morgen Bailey's Writing Blog
 Uncovering the Unseen in Scenes ~ On Christian Authors Network (CAN)
 Honing Your Writing Skills ~ On Christian Authors Network (CAN)
Is Christian Fiction Effective? ~ On Nikole Hahn's Journal
Great books for writers!
My favorite book on the writing craft by my favorite mystery author! Write Away by Elizabeth George:
There is no better book on writing a blockbuster novel (and take Donald Maass's workshop if you're really serious about being a great novelist!) than Writing the Breakout Novel:

Here's Donald Maass's other great book no writer should be without—The Fire in Fiction:

Jim Bell's books on Writing Craft are the best. Highly recommended here! Plot and Structure and Revision and Self-Editing:

Author Brandilyn Collins has a great book on developing deep characters—Getting into Character:
Angela Ackerman and Becca Puglisi's great Emotion Thesaurus: A Writer's Guide to Character Expression!
Noah Lukeman goes in depth on opening scenes in The First Five Pages:
Sol Stein's classic Stein on Writing—great words of wisdom on the writing craft!

A great book on the importance of proper punctuation—Eat, Shoots & Leaves:

The best copyediting book out there–my favorite!

Insights on the Writing Life by Jerry Jenkins: