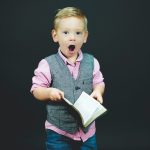 Today's post is a reprint from some years back—important technique for anyone writing fiction!
Readers will often stop reading before they finish the first page of your story. While this has always been true, in this fast-paced age that foments impatience, it's even more true.
If a writer doesn't deliver what a reader hopes for on that first page, it's going to be tough to convince the reader to stick around for the whole chapter—let alone the whole book.
There are lots of things needed on a first page of a novel or short story. And while it's not a hard-and-fast rule that all these elements have to show up on page 1, the more elements a writer includes, the better.
This, of course, is going to vary a lot. And if a writer is starting with a prologue or some scene that doesn't introduce the protagonist, that makes a difference as well. But the overall objective, regardless of opening scene, isn't going to change. And that is to engage the reader. Continue Reading…