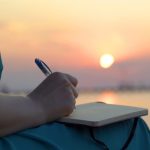 This post originally ran on Jane Friedman's blog in 2017. Be aware there are mature passages in here.
Voice is like your fingerprint. Each of us has a voice when we speak aloud. We have a style of speaking, our own unique vocabulary and syntax and inflections.
When we write, we also adopt a "voice." In fiction, each point-of-view character has a unique voice, which permeates both the narrative and dialogue. In nonfiction, the writer's voice sets the tone and style for the entire book.
When we consider penning a memoir, we can (and should) carefully choose the type of voice that would best suit the story we are telling.
Setting the Tone
Voice is different from tone, but the two are connected. If you plan to write a humorous memoir, the tone will be funny and light (though you can have dark humor too), and the voice you would use would need to fit that tone.
Your story may be one of very painful, dark, and/or terrifying experiences. But that does not mean your tone should be dark, nor that your voice should be heavy, somber, or depressing. Continue Reading…