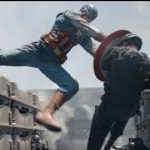 Today's guest post is by J. M. Robison.
After watching the final episode of Grimm, it occurred to me that being realistic in fight scenes is not as obvious as I had believed.
Before I start making claims that I know what a realistic fight scene is, I need to prove why I know it: I've been in military police for twelve years in the US Army, as well as held a full-time job for five years as a deputy sheriff in Elko, NV.
In the final episode of Grimm (no worries, names are protected to prevent spoilers) Bad enters the room. Good, Joe, and Bill are in this room. Joe fights Bad briefly before Bad kills Joe. Good rushes to Joe's side and sobs over his dead body for a good minute. Enraged, Good then rushes Bad. Bad deflects Good, then kills Bill. Good sees Bill fall mortally wounded and races to his side, sobbing over his dead body a full minute and then—enraged again—rushes Bad. Bad deflects Good again, knocking him unconscious, and Bad leaves. Continue Reading…