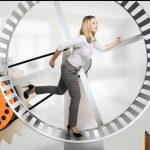 On Throwback Thursday, we're looking at excerpts from past posts on Live Write Thrive.
Today's post is from  How Your Habits Help You Write a Book by Alex Strike.
Writing is not an easy process at all. I'd realized it once I tried to write my very first article on the topic of gambling. Yes, the topic is not the best and noblest one, but even something seemingly easy to write about posed a problem for me. Have you ever tried to describe the rules of playing blackjack in a way that it would be interesting even for people who had never heard of this game at all? Believe me, it is not easy.
And now, when some of my friends try to persuade me that every person can write, I just smile and do not even try to change their minds because it would simply be a waste of time. To understand the process of writing, one should try writing at least something.
Now that I have more than a hundred articles published, I've changed my mind about writing, and I can't imagine how I could have lived without it before. I've started my first book, and I use everything that can help me to write faster and better–even my habits. Continue Reading…