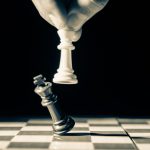 Today's guest post is by Sarah Tinsley.
"Complexity is an indispensable ingredient of life, and so it ought to be with the characters we create in our stories"— Stavros Halvatzis
Everyone loves a good antagonist. From the Sheriff of Nottingham in Robin Hood to Cersei in A Game of Thrones, there's nothing more appealing than a baddie. When you're writing, an antagonist is often a vital part of your story. They allow you to create tension, to give your main character someone to push or fight against, and are often the main driving point behind your plot.
But they need to be more than cartoon villains. It's very rare that you will have an archetypal monster like the shark in Jaws. Most stories need subtle, nuanced antagonists. Getting your reader truly engaged with your story means finding points of empathy with all characters, no matter how reprehensible their actions.
In a wider sense, this is also the power of literature in general—to examine the darker side of human nature and to ask important questions about why bad things happen. It's not for the writer to judge their characters but to present a real, rounded person that will raise debate and interest in their reader. Continue Reading…