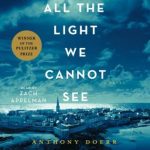 This week we're going to look at the first page of the highly acclaimed novel All the Light We Cannot See by award-winning author Anthony Doerr. This book is described on Amazon as a "beautiful, stunningly ambitious instant New York Times bestseller about a blind French girl and a German boy whose paths collide in occupied France as both try to survive the devastation of World War II."
With my curiosity aroused by a number of my editing clients who absolutely loathed this book and couldn't get far into it, I checked out the audiobook from my library. Despite my determination to listen to the whole novel, I only made it into the second (of many) disks before I wanted to crash my car into a hillside in irritation (I listen to a lot of audiobooks as I drive).
Here again is another Pulitzer Prize­­–winner that leaves me scratching my head in confusion. Seriously, speak up if you not only got through this story but loved it.
What bothers me? The excessive narrative. We've been seeing how a lot of these best sellers open with pages of narrative. And what's interesting to me is it seems the more famous and successful the author, the more narrative they succumb to. Well, at least in the literary fiction arena. Continue Reading…