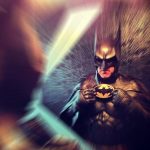 Today's guest post is by Stephanie Norman:
An antihero is the central protagonist in a literary piece, movie, or comic book who lacks the conventional attributes of a hero. Unlike a traditional hero, he is characterized with aggressiveness, clumsiness, dishonesty, or other terrible habits that make him more flawed and distasteful. Nevertheless, he is still the hero of the story because his magnificent traits make him more appealing than loathsome.
Antiheroes are flawed, just as all people are. The light and the dark sides are in a never-ending battle, and their souls are the battlegrounds. Of course, the good in them has to win at some point. Otherwise we would simply call them villains.
A traditional literary hero is the perfect role model. He is brave, strong, and focused. This character always does the right thing, no matter how tempting the situation is. He is Odysseus, Cyrano de Bergerac, and the Little Prince.
Idealistic heroes rarely work for contemporary readers though. The modern heroic qualities are somewhat similar to the traditional ones, but they gravitate towards the dark side too. Readers want to see complex characters that don't always do the right thing but are heroes nonetheless. Continue Reading…