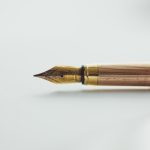 Today's post originally ran on my website for self-publishers (check out the site for more helpful tips if you're going the indie route!).
One of the important marketing tools a writer needs is an author bio. This descriptive bit of writing informs readers, in few words, who you are, what you write, and what makes you unique. It's the marquee announcing your author presence in the world of publishing.
Think about your author bio as your "elevator pitch" that sells you rather than your book.
It may seem odd and uncomfortable penning your own biography, and writing about yourself in third person (which is what you need to do) can makes it feel even weirder. Continue Reading…