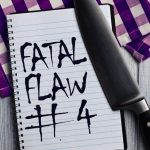 This week editor Christy Distler tackles Fatal Flaw #4—Too Much Backstory. In this month's posts, we've been looking at the pitfalls of dumping backstory into our scenes and showing ways writers might creatively introduce important information pertaining to a character's past or necessary to understand the world of the story.
In fiction, backstory is often given a bad name. Writers are barraged with all sorts of advice: Don't start the story with backstory. Don't info-dump your readers with backstory. Add backstory only sporadically through the story. The list could go on and on.
But the bottom line is, backstory is important. More than important, really—it's essential to the story. Backstory builds realistic, multilayered characters. Without backstory, characters are difficult to connect with, for both the reader and the writer. The reader will be bored by their one-dimensionalness, and the writer will struggle to pen natural, apposite actions and reactions to the happenings in their characters' lives.
And this is where some writers get confused. Backstory is integral . . . but its use is discouraged? Continue Reading…