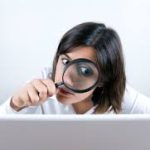 Today's guest post is by Beth Castrodale.
Given the wealth of information available online, there's never been a better time to be a novelist seeking answers to questions like these: What physical and emotional tolls did life in the trenches take on World War I infantrymen? What is a typical workday like for a gravedigger? What new corset features were garment manufacturers touting during the Great Depression?
But, as I discovered while hunting down answers to these very questions, this abundance of information can make the research process feel overwhelming. Fortunately, over time, I've identified some strategies that have helped me address my particular research needs and, in some cases, discover unexpected insights or narrative possibilities. Here, I'll share those strategies and their benefits.
Especially for historical novels, be aware of primary-source materials that are available online. When trying to understand the day-to-day experiences of people who took part in historic events, few resources are more helpful than the firsthand accounts offered in diaries, journals, and memoirs.
Although libraries, archives, and other brick-and-mortar establishments can be great sources of such accounts, more and more of these types of documents are available from thoughtfully curated online archives. (Unlike some other internet sources, these archives can be depended on for reliable, carefully vetted information.) Continue Reading…