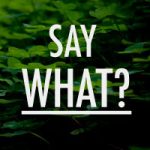 What's a little joke between friends? Assuming there are just two of you, between is correct. But if you're talking about a broader circle of friends, you'll want to use among.
Often people think between is used only when referring to two persons, objects, or groups. It's true that when the choice is between two distinct options, between is the right choice.
Edith couldn't decide between the red or the black dress.
Jeremy's college choice was between Harvard and Yale.
But between is also correct when there are more than two options. CMOS explains it this way: Between is "perfectly appropriate for more than two objects if multiple one-to-one relationships are understood from the context." Continue Reading…