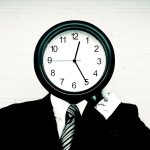 We've been looking at biology: the "B" in the Productivity ABCs. To be a super-productive writer, you need to first "know thyself." Taking a look at your natural biological ups and downs, learning when you have peak energy and concentration, is needed in order to make adjustments in your life and schedule so you can crank out books.
I hope you read last week's post that explained what your biological prime time is and how to determine those hours when you'll be most productive. This is the first step. Most of us "kind of know" when we can do our best writing. But I'm urging you to go deeper and broader with this analysis so that you can streamline your daily schedule, overall, to be the most productive and the happiest in your writing pursuits.
Forcing yourself to write when you just aren't at your peak, and then laying on the guilt when you don't produce good work or enough pages, is self-destructive. We've touched a bit on attitude (though we'll circle back around to it later), and you've seen how important it is to change the negative self-talk into positive, and that it takes work to break out of those habits.
All this may take some time and work, so be patient and just start somewhere. Continue Reading…