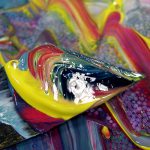 For this week's Throwback Thursday, we're looking at excerpts from past posts on Live Write Thrive that tie in with our exploration on scene structure.
From A Variety of Shots to Paint the Big Picture:
Here's a great sequence of shots from the opening of Apocalypse Now (1975) showing the camera moving in and out, panning, making the viewer see a series of specific things writer/director Francis Ford Coppola feels it's important to see (the original screenplay was written by John Milius). Coppola's aim is to get close and personal to the experience of being in this primal jungle in a hotbed of war, practically immersing the viewer in the swamp of mud.
PRIMEVAL SWAMP – EARLY DAWN
It is very early in the dawn—blue light filters through the jungle and across a foul swamp. A mist clings to the trees. This could be the jungle of a million years ago.
Our VIEW MOVES CLOSER, through the mist, TILTING DOWN to the tepid water. A small bubble rises to the surface; then another. Suddenly, but quietly, a form begins to emerge; a helmet. Water and mud pour off revealing a set of beady eyes just above the mud. Printed on a helmet, in a psychedelic hand, are the words: "Gook Killer." Continue Reading…