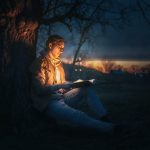 Today's guest post is by Carla D. Bass.
Rumpelstiltskin spins straw into gold. An author employs an intriguing plot, captivating characters, and exquisite settings to spin a tale.
However, these ingredients, themselves, don't guarantee a captivating tale. The author must induce the reader to hang on every single word (double drumbeat for emphasis) from that all-important title and opening line to the story's conclusion. How? What additional pixie dust generates that literary magic?
The answer is twofold: 1) make each word count in conveying the story and 2) respect the reader's time—present a memorable, enjoyable experience.
A foundational principle—for fiction and nonfiction—is leveraging available space and the reader's time. I, too, am an avid reader, but lose interest when I can scan a few sentences on the page and skip the rest. Continue Reading…