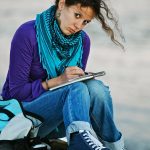 Today's guest post is by award-winning blogger Carol Tice, an expert freelancer, with some great advice for aspiring (and established) novelists:
It's hard work trying to write a novel these days, isn't it?
Besides finding the time to write your masterpiece, you need to be "platform building," which usually takes the form of blogging to build an audience ahead of selling your book.
Now you're writing a book and a blog. When are you supposed to do anything that might put food on the table this week?
Luckily, if you have a blog, you can earn in a way you'd probably find fairly pleasant and easy—blogging for others for pay. Continue Reading…