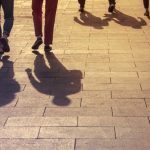 Minor characters are part of your cast of characters. They come "on stage" from time to time and serve specific purposes in the story. They don't have huge, front and center roles, but they're important to the overall plot.
The characters at NASA trying to get Mark Watney home from Mars in The Martian have bit parts, but without them, the story fails. Same with the crew of Watney's ship, his pals who make the hard decision to turn around and go back for him, committing to many months' delay in returning to Earth.
There are few moments with these minor characters, but if they were removed from the story, there would be no story to speak of. So, remember, they are only minor in the amount of stage time they have in the pages of your book. But they are not minor in value or purpose.
Incidental characters are in a different category. They can be removed from your story and it wouldn't truly impact it. Their absence would not equate to novel failure. However, I will venture to say that sometimes it's the incidental characters that add that special ingredient that makes a novel terrific and stand high above the mounds of other good novels.
It may perhaps be counterintuitive to say that incidental characters often have a big impacting role in a story, but I'd like you to pay close attention to this and consider how you might work incidental characters into your story. Continue Reading…