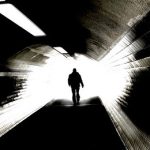 For this week's Throwback Thursday, we're looking at excerpts from popular past posts on Live Write Thrive.
From History as Mystery:
I mentioned how it's not all that helpful (or interesting) to spend time creating the outward attributes of your character, for what really shapes a person is their history. I showed how by creating and exploring a character's past hurt or wound you can determine the way she looks at herself and the world. When your character believes lies about herself and her world because of this hurt, she creates a persona that's not her true self. And when someone is not their true self, they feel restless, unhappy, and lost. Which spurs them on their journey to find their essence. It's the place she needs to get to, and her journey through the novel is not just aimed at her reaching her visible plot goal but also her spiritual goal of embracing her essence or who she truly is. Remember the sixties and how we were all about "finding" ourselves? This is the same thing but without the drugs.
Create Some History
So, once you've established this key, pivotal element or incident (or series of incidents) that have made her who she is at the start of the story, you'll want to create some more history. With that major task out of the way, the next step is giving your characters an entire life. This doesn't mean you have to write or know every single second in their past. But you want to create enough of a past that they fill out. And the events and history you create need to be homogeneous with who they are now as well as fit in with your plot. Continue Reading…